Escalon Historical Museum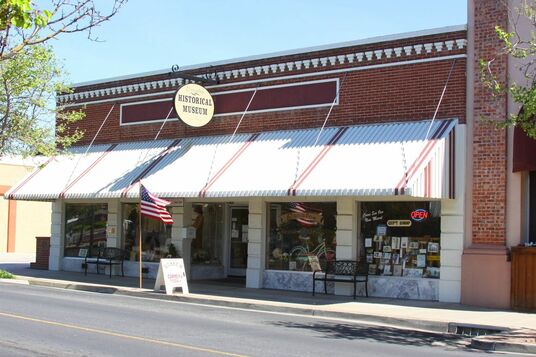 1630 Main Street
Escalon, CA 95320
Museum Hours
Wednesday 12:00 to 4:00 PM
Saturday 12:00 to 4:00 PM
or by request
(209) 838-8070
e
scalon.historical@gmail.com
Facebook Page
Reminisce Day
First Wednesday of the month
Everyone is welcome
---
Take a Virtual Tour of the Museum Below!
**Simply click on the image and drag in the direction you want to look. To move forward, click the arrows in the direction you want to walk.**
---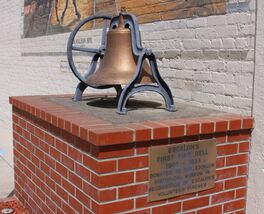 Escalon's first fire bell was used from 1903 to 1923 when it was
replaced by a siren. This bell was donated to the museum in
recognition of Escalon's volunteer firemen and is displayed next to
the museum building

---
---
The Escalon Historical Society was formed in 1989 by a group of citizens concerned with the preservation of Escalon's history for future generations. The purpose of the society is to preserve, protect, and maintain the history of the City of Escalon and its nearby rural environs.
The society owns, operates, and maintains the Escalon Historical Museum at 1630 Main Street in Escalon. Throughout the year the society conducts a variety of fundraisers and sponsors various events in order to provide some of the funds for the operation of the museum.
Support of the Escalon Historical Society and the Escalon Historical Museum can be shown by the purchase of yearly membership in the society.
.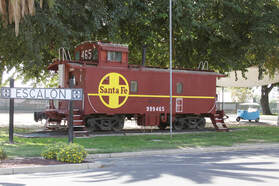 This Atchison
,
Topeka and Santa Fe Railroad caboose is located in Escalon's Main Street Park and owned by the Escalon Historical
Society.
The caboose sits very near the
spot where the Santa Fe
depot was erected as one of the new town's first buildings in the late 1890's. The first train passed through Escalon in 1896.
---
---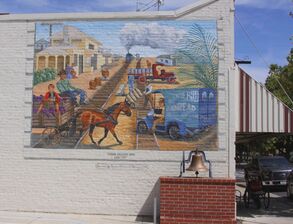 This mural on the exterior wall of the museum was painted by artist Alexandra Riddle and was unveiled in June 2009 at the celebration of the museum's and society's twentieth anniversary. The mural depicts Escalon's rich heritage of agriculture, dairy, business, and railroad transportation.

---
---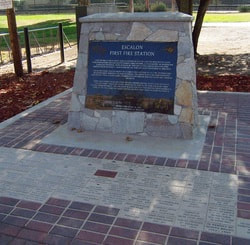 The first order of seventy-seven engraved bricks was installed on Saturday, September 29, by local concrete contractor Roger Peters. These bricks commemorate businesses that were and are now in the community, such as variety stores, trucking companies, and contractors. They also memorialize people and families that have lived in Escalon for generations as well as for much shorter periods of time. Still other bricks pay tribute to fire department volunteers and auxiliary members who volunteered their time and energy since the fire department's beginnings in 1912. The Buy-a-Brick Fundraiser continues. Bricks are still available for purchase and engraving. Contact the museum, the society, or one of its members for information and an order form.
---
---